Welcome to PHANTOMS VOLLEYBALL!
---
Phantoms are a regional State League Volleyball club based in Western Victoria. Our OATH is to support and grow volleyball pathways in Country Victoria!
"Through strong leadership, accountability and good governance, Phantoms will actively promote volleyball and provide opportunities for all people playing, umpiring, coaching, volunteering, and / or spectating throughout Western Victoria."

2020 AGM INFORMATION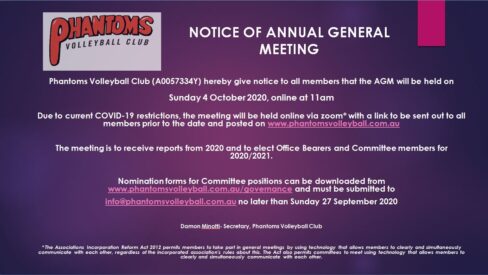 As per the details above, we encourage all member to attend this years virtual AGM via Zoom on Sunday October 4th at 11am. It is important that we have as many attendees as possible as we elect our Committee and off court leaders for the 2021 VVL season. Anyone interested in nominating can find the nomination forms below, noting that there are now 2 ways you can be involved. Proxy voting forms can be downloaded from our GOVERNANCE page if you cannot attend but would like to vote for a nominee in any position.

1. EXECUTIVE COMMITTEE MEMBER – Nominate for election and join the Committee as an elected decision maker in an Executive role (ie President, Vice President, Treasurer or Secretary) or as an Ordinary Member.
Executive Committee Phantoms Volleyball Club – Nomination Form 2020

2. SHADOW COMMITTEE MEMBER – Are you interested in learning how the Committee operates or would like to join but don't have any experience or understanding of the the role? In 2021 we are trialling an unofficial "Shadow" system where you can nominate to assist a Committee member in their role and develop an understanding of how Committees and meetings operate and decisions are made. There may be times when confidential information is discussed and Shadow members are not involved in the meeting, but overall it is a great opportunity to learn some corporate governance skills and it will look fantastic on your resume! For more information on what this involves, please email the info address or contact Damon.
Shadow Committee Phantoms Volleyball Club – Nomination Form 2020

All Nomination forms must be completed and submitted to info@phantomsvolleyball.com.au no later than 27 September


PHANTOMS 10 YEAR CELEBRATIONS
In 2020, our club celebrates its 10th year of providing elite level opportunities to all volleyball athletes in Western Victoria. From its infancy as a single Men's team in 2011, Phantoms has grown to become one of the biggest State League clubs in Victoria, fielding teams in all Men's and Women's Divisions and creating a sustainable pathway for development in regional Victoria. The Club is committed to commemorating this milestone when it is safe and responsible to do so and will continue to plan for the opportunity when it arises in 2021. Watch this space and involved!


A reminder of useful resources on Coronavirus (COVID-19)
:
Australian Institute of Sport

Department of Health & Human Services

World health Organisation