Welcome to PHANTOMS VOLLEYBALL!
---
Phantoms are a regional State League Volleyball club based in Western Victoria. Our OATH is to support and grow volleyball pathways in Country Victoria!
"Through strong leadership, accountability and good governance, Phantoms will actively promote volleyball and provide opportunities for all people playing, umpiring, coaching, volunteering, and / or spectating throughout Western Victoria."

TRIALS DATES CONFIRMED
Phantoms can now confirm the dates and venues for our two 2021 team trials, thanks to everyone for their patience and to our supporting affiliate Associations for exploring all options.

TRIAL 1:
Saturday 30th January
Ballarat Minerdome
989 Norman Street, Wendouree, 3355
Women: 10am – 12pm & 2pm – 4pm
Men: 12pm-2pm & 4pm – 6pm

TRIAL 2:
Saturday 6th Febraury
Horsham Basketball Stadium (Men) & St Brigid's College (Women)
Men & Women: 11am – 1pm & 2:30pm – 4pm
Lunch & Club discussion: 1pm – 2:30pm

To improve the trial experience and to adhere to Covid regulations all participants attending the trials will need to register online prior to the day(s) you are attending. You will need to complete all the information and for players, there is a cost of $10 per trial – $20 if you are attending both (Coaches still need to register but there is a $0 cost). Attendance at at least one trial will be required to be eligible for selection, but attending both trials will give you the best opportunity to play at the appropriate level. Please note there are 3 trial dates listed in the registration process however only the first two (Jan 30 & Feb 6) are going ahead. If you are planning to attend both trials, select the "ALL" option in the trial date drop down box even though it lists 3 dates, complete the rest of the fields and then proceed through to the payment section, paying $10 for one trial or $20 for both.  

Please bring a plenty of water, a towel (for cleaning up sweat), lunch and snacks to get you through the day and a change of clothes if required between the two sessions. We are working with stadiums to have as many facilities available as possible but it is likely due to ongoing Covid-19 restrictions that there will be limited or no access to canteens or change rooms for showers. Toilets will of course be open.

If you intend to play but cannot attend either trial for any reason, you must email info@phantomsvolleyball.com.au prior to the trials so a coach can contact you. Phantoms are a State League Club and the standard is not suited to beginners. If you have not played for Phantoms before please talk to your local Association first. We look forward to seeing you all on Saturday 30th January in Ballarat.

CLICK HERE TO REGISTER

VOLLEYBALL VICTORIA & VICSPORT CHILD SAFE REVIEW
Volleyball Victoria are running Child & Youth Engagement Workshops as part of their Child Safe Review with VicSport. They are interested in running one of these workshops in conjunction with our Phantoms Trials and ask that any members attending trials please consider getting involved by completing an Expression of Interest form. A detailed information sheet for parents can be VV CSR – Workshop Information for Parents Participants 18.12.20 (002).

2021 COMPETITION STRUCTURE
Volleyball Victoria have recently announced a change in the structure of State League with a two tiered competition replacing the current version.
There will be a Premier Competition of 2 Divisions – Premier 1 & Premier 2 replacing the existing Premier and Reserves for Men and Women. These will consist of the same Clubs in each of the 4 divisions with each Club sharing the same draw for all of their 4 teams.
There will also be a Reserves Competition of 3 Divisions – Reserves 1, Reserves 2 & Reserves 3 replacing the old Divisions 2 & 3 and adding an extra one with the number of entries growing year on year. These will be for any Club to enter, with the option for multiple teams in each division.
A draft fixture which is subject to change can be found on our Fixture & Results Page.

COACHES WANTED
Phantoms Volleyball Club is seeking expressions of interest for coaches for 2021 and also welcomes any applications for Assistant Coaching positions at any level. These key coaching positions will be in the Men's and Women's Reserves Competition and primarily be responsible for the development of our up and coming players looking to progress into Premier Division teams in future years. They will work with our senior Premier Division coaches to establish a consistent message and skill models for all players and be involved in selection trials, trainings and match day coaching.
For further information or to apply for a position please complete an Coaching EOI form Form and email to info@phantomsvolleyball.com.au

2021 COMMITTEE ELECTED
Phantoms AGM was held on Sunday October 4th at 11am via zoom where a new Committee was elected to lead the Club forward in 2021. You can read the minutes AGM Minutes 04.10.2020 and see more about our Committee members on the Governance page but they are:
President – Ben Hassell
Vice President – Elsie Rodgers
Treasurer – Joshua Gordon
Secretary – Damon Minotti
Member – Chris Hermans
Member – Joe Nguyen
Member – Peter Hassell
Member – Rachelle Casley
Member – Michael Mayes

A MESSAGE FROM OUR PRESIDENT – BEN HASSELL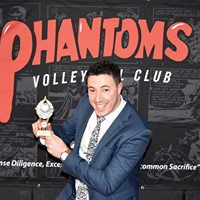 As the newly elected president of the Phantoms Volleyball Club, I would firstly like to acknowledge my predecessor Paul Byrne. The leadership and input he has provided to club over the last few years has been invaluable and he leaves the role with the club clearly moving towards bigger and better things. His departure will leave a giant hole in our Club but we should always be looking forward, so I wish him the best on his future endeavours and I know he will continue to help our Phantoms where he can.

I feel honoured to be accepted into the role as President by our Executive Committee and I come into the role knowing full well we have changeling times ahead with the return of Volleyball in 2021. I would like to congratulate the other elected members of our committee and look forward to working with Elsie to lead the team towards a successful return to State League volleyball next year.

We realise it's a long, tough road ahead with plenty of work to be done, but I know we are all looking forward to an exciting year to come and can't wait to get teams back onto the court. I hope to see many familiar faces return along with any new players from Western Victoria looking to play volleyball at the highest level in the state with the Phantoms.

Please stay tune to our website and socials for information in regards to return to play or if you have any direct questions please contact the club via info@phantomsvolleyball.com.au or if you wish to speak to me directly, please feel free to contact me on 0401938350.

PHANTOMS 10 YEAR CELEBRATIONS
In 2020, our club celebrates its 10th year of providing elite level opportunities to all volleyball athletes in Western Victoria. From its infancy as a single Men's team in 2011, Phantoms has grown to become one of the biggest State League clubs in Victoria, fielding teams in all Men's and Women's Divisions and creating a sustainable pathway for development in regional Victoria. The Club is committed to commemorating this milestone when it is safe and responsible to do so and will continue to plan for the opportunity when it arises in 2021. Watch this space and involved!


A reminder of useful resources on Coronavirus (COVID-19)
:
Australian Institute of Sport

Department of Health & Human Services

World health Organisation