Welcome to PHANTOMS VOLLEYBALL!
---
Phantoms are a regional State League Volleyball club based in Western Victoria. Our OATH is to support and grow volleyball pathways in Country Victoria!
"Through strong leadership, accountability and good governance, Phantoms will actively promote volleyball and provide opportunities for all people playing, umpiring, coaching, volunteering, and / or spectating throughout Western Victoria."

2021 COMMITTEE ELECTED
Phantoms AGM was held on Sunday October 4th at 11am via zoom where a new Committee was elected to lead the Club forward in 2021. You can read the minutes AGM Minutes 04.10.2020 and see more about our Committee members on the Governance page but they are:
President – Ben Hassell
Vice President – Elsie Rodgers
Treasurer – Joshua Gordon
Secretary – Damon Minotti
Member – Chris Hermans
Member – Joe Nguyen
Member – Peter Hassell
Member – Rachelle Casley
Member – Michael Mayes

A MESSAGE FROM OUR PRESIDENT – BEN HASSELL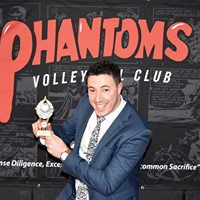 As the newly elected president of the Phantoms Volleyball Club, I would firstly like to acknowledge my predecessor Paul Byrne. The leadership and input he has provided to club over the last few years has been invaluable and he leaves the role with the club clearly moving towards bigger and better things. His departure will leave a giant hole in our Club but we should always be looking forward, so I wish him the best on his future endeavours and I know he will continue to help our Phantoms where he can.

I feel honoured to be accepted into the role as President by our Executive Committee and I come into the role knowing full well we have changeling times ahead with the return of Volleyball in 2021. I would like to congratulate the other elected members of our committee and look forward to working with Elsie to lead the team towards a successful return to State League volleyball next year.

We realise it's a long, tough road ahead with plenty of work to be done, but I know we are all looking forward to an exciting year to come and can't wait to get teams back onto the court. I hope to see many familiar faces return along with any new players from Western Victoria looking to play volleyball at the highest level in the state with the Phantoms.

Please stay tune to our website and socials for information in regards to return to play or if you have any direct questions please contact the club via info@phantomsvolleyball.com.au or if you wish to speak to me directly, please feel free to contact me on 0401938350.

PHANTOMS 10 YEAR CELEBRATIONS
In 2020, our club celebrates its 10th year of providing elite level opportunities to all volleyball athletes in Western Victoria. From its infancy as a single Men's team in 2011, Phantoms has grown to become one of the biggest State League clubs in Victoria, fielding teams in all Men's and Women's Divisions and creating a sustainable pathway for development in regional Victoria. The Club is committed to commemorating this milestone when it is safe and responsible to do so and will continue to plan for the opportunity when it arises in 2021. Watch this space and involved!


A reminder of useful resources on Coronavirus (COVID-19)
:
Australian Institute of Sport

Department of Health & Human Services

World health Organisation