Welcome to PHANTOMS VOLLEYBALL!
---
The Western Phantoms are a State League Volleyball club based in Country Victoria. Our oath is to support and grow volleyball of all levels in Country Victoria!

PHANTOMS PRESENTATION NIGHT
September 14th – All Seasons Hotel, Bendigo
Join us in celebrating Phantoms Volleyball Club's 2019 State League Season over dinner and drinks at our biggest function of the year! 2018 was a cracking night with all our members recognised for their commitment and achievements. Check out our Honour Board page for photos of last years event and Club history of past winners. Ticket prices are $50 per person including 3 course meal and can be purchased through Eventbrite here.

PHANTOMS AGM
September 14th – All Seasons Hotel, Bendigo @6pm
Please be at the All Seasons for a 6pm start if yoiu wish to attend our AGM as per the following notice.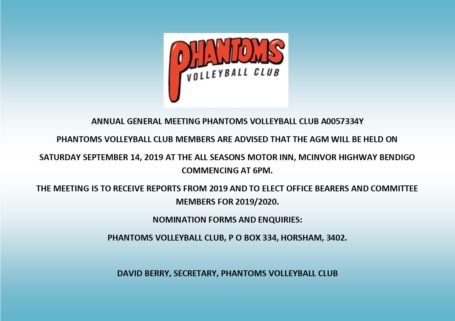 PHANTOMS COMMITTEE NOMINATIONS
Nomination forms for the Phantoms Committee can be downloaded
Executive Committee Phantoms Volleyball Club – Nomination Form 2019.20
and must be returned to the club by Wednesday 12th September.
PHANTOMS COACHING POSITIONS 2020
If you or anyone you know in your Association or the wider volleyball community are interested in applying for a Coaching or Assistant coaching position for anyone of our teams in 2020, please complete the
Coaching EOI form
and return via email to
damonminotti@hotmail.com.au
PHANTOMS TEAMS FINAL STANDINGS
Final ladder positions for Phantoms teams at the end of the home and away season were as follows. Teams in BOLD qualified for finals:

Premier Women 5th/8
Premier Men 6th/8
Reserves Men 5th/13
Reserves Women 7th/13
Division 2 Men Black 4th/14
Divison 2 Men Purple 8th/14
Division 2 Women 9th/17
Division 3 Women 5th/13
Division 3 Men 8th/9