Welcome to PHANTOMS VOLLEYBALL!
---
Phantoms are a regional State League Volleyball club based in Western Victoria. Our OATH is to support and grow volleyball pathways in Country Victoria!
"Through strong leadership, accountability and good governance, Phantoms will actively promote volleyball and provide opportunities for all people playing, umpiring, coaching, volunteering, and / or spectating throughout Western Victoria."

VVL UPDATE MATCH DAY 3 – BENDIGO
There have been significant changes to the times of matches for this weekend (May 8th) in Bendigo due to an unexpected clash with the NBL 1 on Saturday afternoon/evening. Unfortunately neither Volleyball Victoria or Phantoms were given notice until very late Wednesday evening. Please ensure you are aware of your games times now as every match has moved forward either 60 or 90 minutes. If there are any issues caused by this please inform your coach ASAP. Good luck to all teams, particularly players making their debuts this week.

9am Matches
09:00 Reserves Men 1 v Mazenod (Bendigo Stadium Court 5) DUTY Phantoms Reserve Women 2
09:00 Premier Men 1 v Mazenod (Bendigo Stadium Court 6) DUTY Phantoms Premier Men 2
09:00 Premier Women 2 v Mazenod (Bendigo Stadium Court 7) DUTY Phantomms Premier Women 1

11am Matches
11:00 Reserves Women 2 v Volley Friends United (Bendigo Stadium Court 5) DUTY Latrobe RM1
11:00 Premier Men 2 v Mazenod (Bendigo Stadium Court 6) DUTY Mazenod PM1
11:00 Premier Women 1 v Mazenod (Bendigo Stadium Court 7) DUTY Mazenod PW2

1pm Matches
13:00 Reserves Men 1 v Latrobe University (Bendigo Stadium Court 5) DUTY Volley Friends United RW2
13:00 Premier Men 1 v Mazenod (Bendigo Stadium Court 6) DUTY Mazenod PM2
13:00 Premier Women 2 v Mazenod (Bendigo Stadium Court 7) DUTY Mazenod PW1

2:30pm Matches
14:30 Reserves Women 2 v Latrobe university (Bendigo Stadium Court 5) DUTY Reserves Men 2
14:30 Premier Men 2 v Mazenod (Bendigo Stadium Court 6) DUTY Phantoms Premier Men 1
14:30 Premier Women 1 v Mazenod (Bendigo Stadium Court 7) DUTY Phantoms Premier Women 2

2021 MEMBERSHIP FORMS
Our 2021 Membership forms are available for download 2021 Membership Form and via the Athlete Resources page. Memberships MUST be paid by Tuesday April 6th, prior to Round 1, so please read the form carefully and if you have any questions, concerns or challenges related to payment or would like to discuss a payment plan, please email info@phantomsvolleyball.com.au or speak to a Committee member or coach prior to April 6th so we can help any way we can.

2021 CLUB MERCHANDISE FORMS
Up to date information on uniform requirements and the Merchandise form can be found on our UNIFORMS page. Please ensure you understand all the requirements and speak to your coach about any playing uniform concerns or contact sales@s3promotions.com.au for any other merchandise related questions. Orders for merchandise should be placed by the end of March!

GET ACTIVE KIDS $200 SPORTS VOUCHERS
For any junior players under the age of 18, please check out the Get Active Kids Voucher Program to see if you are eligible for a $200 voucher to help with the cost of playing VVL this year.

2021 MEDICAL INFORMATION
All club members – players, coaches, volunteers – must have completed an Operoo profile and shared it with the club. if you have not received an invite via email, please check your junk mail first and then contact info@phantomsvolleyball.com.au if you cannot find the invitation or have trouble sharing it with us.

2021 COMPETITION STRUCTURE
Volleyball Victoria have recently announced a change in the structure of State League with a two tiered competition replacing the current version.
There will be a Premier Competition of 2 Divisions – Premier 1 & Premier 2 replacing the existing Premier and Reserves for Men and Women. These will consist of the same Clubs in each of the 4 divisions with each Club sharing the same draw for all of their 4 teams.
There will also be a Reserves Competition of 3 Divisions – Reserves 1, Reserves 2 & Reserves 3 replacing the old Divisions 2 & 3 and adding an extra one with the number of entries growing year on year. These will be for any Club to enter, with the option for multiple teams in each division.

Phantoms have entered the following teams for 2021:
Women's Premier 1
Women's Premier 2
Women's Reserves 2
Men's Premier 1
Men's Premier 2
Men's Reserves 1
A draft fixture which is subject to change can be found on our Fixture & Results Page.


2021 COMMITTEE ELECTED
Phantoms AGM was held on Sunday October 4th at 11am via zoom where a new Committee was elected to lead the Club forward in 2021. You can read the minutes AGM Minutes 04.10.2020 and see more about our Committee members on the Governance page but they are:
President – Ben Hassell
Vice President – Elsie Rodgers
Treasurer – Joshua Gordon
Secretary – Damon Minotti
Member – Chris Hermans
Member – Joe Nguyen
Member – Peter Hassell
Member – Rachelle Casley
Member – Michael Mayes

A MESSAGE FROM OUR PRESIDENT – BEN HASSELL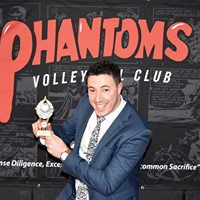 As the newly elected president of the Phantoms Volleyball Club, I would firstly like to acknowledge my predecessor Paul Byrne. The leadership and input he has provided to club over the last few years has been invaluable and he leaves the role with the club clearly moving towards bigger and better things. His departure will leave a giant hole in our Club but we should always be looking forward, so I wish him the best on his future endeavours and I know he will continue to help our Phantoms where he can.

I feel honoured to be accepted into the role as President by our Executive Committee and I come into the role knowing full well we have changeling times ahead with the return of Volleyball in 2021. I would like to congratulate the other elected members of our committee and look forward to working with Elsie to lead the team towards a successful return to State League volleyball next year.

We realise it's a long, tough road ahead with plenty of work to be done, but I know we are all looking forward to an exciting year to come and can't wait to get teams back onto the court. I hope to see many familiar faces return along with any new players from Western Victoria looking to play volleyball at the highest level in the state with the Phantoms.

Please stay tune to our website and socials for information in regards to return to play or if you have any direct questions please contact the club via info@phantomsvolleyball.com.au or if you wish to speak to me directly, please feel free to contact me on 0401938350.

PHANTOMS 10 YEAR CELEBRATIONS
In 2020, our club celebrates its 10th year of providing elite level opportunities to all volleyball athletes in Western Victoria. From its infancy as a single Men's team in 2011, Phantoms has grown to become one of the biggest State League clubs in Victoria, fielding teams in all Men's and Women's Divisions and creating a sustainable pathway for development in regional Victoria. The Club is committed to commemorating this milestone when it is safe and responsible to do so and will continue to plan for the opportunity when it arises in 2021. Watch this space and involved!


A reminder of useful resources on Coronavirus (COVID-19)
:
Australian Institute of Sport

Department of Health & Human Services

World health Organisation